Do you have a fundraising idea? Let us know! We are always happy to add to our partners and thank you in advance for thinking of us. All fundraising initiatives will be posted on social media as well as our website.
CURRENT FUNDRAISERS:
A Dogs Love Quilt Raffle
$10.00
Buy ticket now!
This gorgeous quilt was handmade by
www.quiltingforchildren.ca
and is 54 inches wide by 64 inches long. It is made out of cotton and is reversible. All proceeds from the raffle will go to our new Reunification Program, which helps provide microchips to ensure animals get back to their owners. ONLY 200 tickets available so get yours now! Draw date is Sept. 30, 2021 and all tickets will be mailed out. AGLC RAFFLE # 576605
NOW AVAILABLE: PET FIRST AID KITS! $25
Be prepared by acquiring a first aid kit for your pet, also great for human use. Makes a wonderful gift for any pet lover and all funds will be used towards resources to assist in a disaster or emergency response! All First Aid Kits also include or Emergency Door Sticker! Shipping is available to anywhere in Canada. You can order below and select if you need shipping or can pick up in Calgary and immediate areas.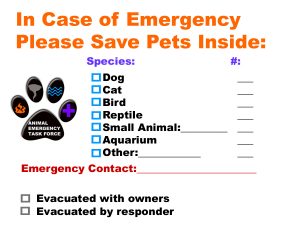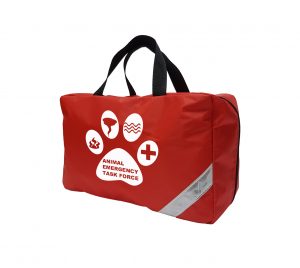 DELUXE PET FIRST AID KIT:
Deluxe pet first aid kit designed to treat a variety of injuries.
Bring one along during walks or when traveling with pets.
Includes key items such as first aid manual, penlight, oral syringe, thermometer, blanket and more.
Additional storage in bag allows for customization.
Comes in a quality nylon bag
Kit Contents:
5 – Benzalkonium Chloride Antiseptic Towelettes
2 – Gauze Pads – 5.1 x 5.1 cm (2″ x 2″) – Sterile
2 – Gauze Pads – 7.6 x 7.6 cm (3″ x 3″) – Sterile
1 – Conforming Stretch Gauze Bandage Roll – 5.1cm (2″)
1 – Conforming Stretch Gauze Bandage Roll – 7.6cm (3″)
1 – Cloth Tape – 1.3cm x 4.57m (0.5in x 5 yd)
3 – Povidone Iodine Prep Pad
1 – Paramedic Scissors 5.5″
1 – Metal Forceps/Tweezer – 8.8 cm (3.5″)
2 – Examination Gloves (Pair) – Large
1 – Abdominal/Combine Pads – 12.7 x 22.9cm (5″ x 9″)
12 – Cotton Tip Applicators
2 – Hand Cleansing Towelettes
2 – Sani-Hands Hand Sanitizing Wipes
1 – Self-Adhering Wrap Bandage 2″
1 – First Aid Guide for Pets
2 – Non-Adherent Pads – 5.1cm x 7.6cm (2″ x 3″) – Sterile
2 – Non-Adherent Pads – 7.6cm x 10.2cm (3″ x 4″) – Sterile
1 – Mylar Emergency Rescue Blanket
1 – Emergency Flasher with Clip
1 – Thermometer, Oral, Rectal, C/F
1 – Eyewash Solution, 30ml, Bottle
2 – Tongue Depressors
1 – Penlight, Paramedic, Disposable
1 – Oral Syringe, 10cc
DOOR STICKER: Make sure emergency responders are aware of the animals in your home. $3 includes shipping and funds raised go towards our Education/Training.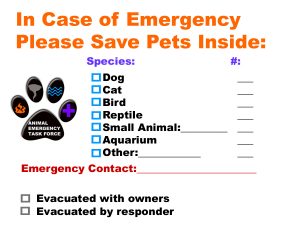 SKIP THE DEPOT:
Looking for new ways to help us out? We've partnered with @SkipTheDepot. Download the app or go online, use the link below to book a pickup, place your bags and donate your refund directly to Animal Emergency Task Force Association.https://app.skipthedepot.com/animalemergencytaskforce