ARE YOU PREPARED FOR A DISASTER OR MAJOR EMERGENCY?
Mitigation is the first step in order to deal with an emergency or disaster.  By being prepared and knowing what you can do before the event, will ensure you and your pets safety.  Click here to: Prepare and Plan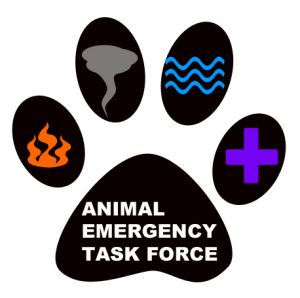 5 Steps To Prepare Animals For A Emergency/ Disaster
1. Microchip your pets
Microchip identification is one of the best ways to ensure that you and your pet are reunited if you are separated. Be sure to keep the microchip registration up-to-date, and include at least one emergency number of a friend or relative who resides out of your immediate area.
2. Keep a collar and tag on all cats and dogs
Keep several current phone numbers on your animal's identification tag. If your home is damaged during a disaster, they could easily escape.
3. Plan a pet-friendly place to stay
Search in advance for out-of-area pet-friendly hotels or boarding facilities, or make a housing exchange agreement with an out-of-area friend or relative. Never leave your pet behind if you evacuate!
4. Use the buddy system
Exchange pet information, evacuation plans and house keys with a few trusted neighbours or nearby friends. If you're caught outside evacuation lines when an evacuation order is issued, your neighbours or friends can evacuate your pets for you.
5. Prepare an emergency kit for each animal
Stock up on the items you may need during a disaster now so you do not get caught unprepared. Below are basic items you should include in your pets' disaster kits. Store your disaster kit supplies in an easy-to-grab container.
Two days to 1 week supply of food. Store it in a water-tight container and rotate it every three months to keep it fresh. If you use canned food, include a spare can opener.

Two days to 1 week supply of fresh water. If officials declare your household water unfit to drink, it's also unsafe for your pets.

Medication. If your animal takes medication, put a weeks worth aside in an old bottle of the same prescription as medications may be hard to find quickly.

Copies of vaccination records

Photographs of you with your pets to prove ownership

Photographs of your pets in case you need to make "lost pet" flyers

Pet first aid kit

Carrier or leash for each animal. Any way to keep a pet restrained during travel as they may try to flee due to the stressful situation.
Download our Pet Preparedness Brochure:
Large/ Farmyard Animal Preparedness:
The Government of Canada has put together an emergency plan for farms/ranches that have large animal and livestock.
A WARNING OR ALERT HAS BEEN ISSUED, WHAT DO YOU DO?
You have received a warning or alert about a disaster or emergency, you have already planned and prepared for an incident, now is the time to start the plan!   Do Not Wait, an ounce of prevention can save you, your animal and numerous resources.  Click here to learn more and about disaster specific ( wildfire, flood, tornado, etc) help: Warning and Alert
A VOLUNTARY OR MANDATORY EVACUATION ORDER IS IN EFFECT:
Hopefully by this point, you are ready to leave with your family and animal(s).  If you can not get back to your home, this is where you would contact that trusted person with access to your house to get your animal(s) for you, providing there is time and it is safe to do so. Unfortunately, nature rarely allows us the time required.  Click here to learn more about: Evacuation

COVID -19 INFORMATION:
Click link below for quick tips on how to prepare

USEFUL LINKS:

Pet Friendly Accommodations: http://www.petfriendly.ca
The Canadian Federation of Humane Societies: https://www.cfhs.ca/find_a_member
Humane Societies and SPCAS: http://www.petfriendly.ca/links/humane.php
Alberta Farm Animal Care:https://www.afac.ab.ca/resources/emergency-preparedness/
 Other Animal Response Teams By Province:

National:CDART ( Canadian Disaster Animal Response Team): https://www.cdart.org/branches/
British Columbia:
CDART ( Canadian Disaster Animal Response Team): https://www.cdart.org/branches/
ALERT (Animal Lifeline Emergency Response Team): http://alertcanada.org/
Alberta:
AETF ( Animal Emergency Task Force): https://www.aetf.ca
Manitoba:
CDART ( Canadian Disaster Animal Response Team): https://www.cdart.org/branches/
Nova Scotia:
DARTNS ( The Disaster Animal Response Team of Nova Scotia): http://www.dartns.org/
Ontario:
NSSADRT ( Never Stop Saving Animal Rescue):http://www.neverstopsavingadrt.org/
While there are too many to list, please know your local  veterinarian and animal rescue shelter!