Do you have a fundraising idea? Let us know! We are always happy to add to our partners and thank you in advance for thinking of us.   All fundraising initiatives will be posted on social media as well as our website.
CURRENT FUNDRAISERS:
NOW AVAILABLE:  PET FIRST AID KITS!   $25  Be prepared by acquiring a first aid kit for your pet, also great for human use. Makes a wonderful gift for any pet lover and all funds will be used towards resources to assist in a disaster or emergency response! All First Aid Kits also include or Emergency Door Sticker!  Shipping is available to anywhere country wide. You can order below or if you wish to pick up in Calgary your shipping cost will be refunded.
DOOR STICKER:  Make sure emergency responders are aware of the animals in your home.  $3 includes shipping and funds raised go towards our Education/Training.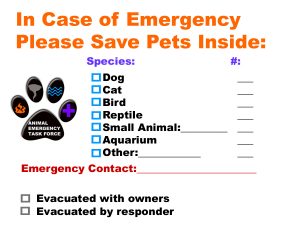 Get A Horse Trailer & Truck:  We are actively trying to raise money to acquire a truck and horse trailer to use during evacuations or for transport.